Tie-dying socks is a fun activity for people of all ages. It's a simple process, and you don't need to be an artist to create something great. All you need is a quality pair of socks, some dye and rubber bands.
In this guide, you'll learn how to make your own tie-dye socks right in your home.
Why Do You Need Tie-Dye Socks?
Why should you buy socks to tie dye? There are many reasons to tie-dye your own socks.
It's fun! Tie-dying your own socks can be a fun activity whether you do it alone, with friends or as a family.
They're trendy. Tie-dyed socks are all the rage right now.
You can be as creative as you want. For example, when you tie-dye your own socks, you can choose your own colors and even affect the pattern. It's a fun way to express your creativity.
There are so many reasons why you should tie-dye your own socks, but ultimately, it comes down to it being a lot of fun.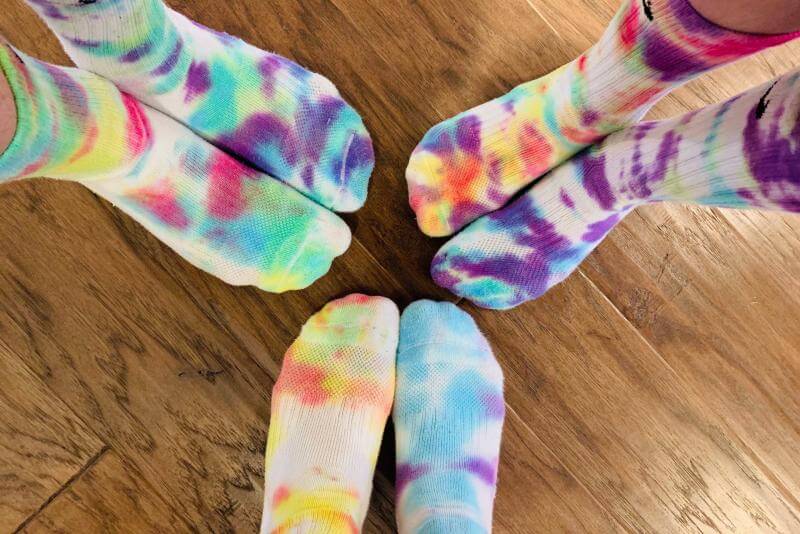 What You Need to Make Tie-Dye Socks
To start making your own tie dye crew socks, you'll need a few simple things:
A tie dye kit. These kits include squirt bottles and the dyes you need to color your socks.
Good quality crew socks.
Gloves (may be included in your tie-dye kit).
Rubber bands (may be included in your tie-dye kit).
Water.
A plastic tub or tote to hold the socks.
It is crucial to get quality crew socks that are at least 75% cotton. If you choose socks that are mostly polyester or made with poor quality materials, the tie-dye won't work properly.
Because tie-dye can be messy, it's best to use two totes or plastic tubs. One tub can be used for containing the water and dye, and the other tote can be used to dry your socks once you're done dying them.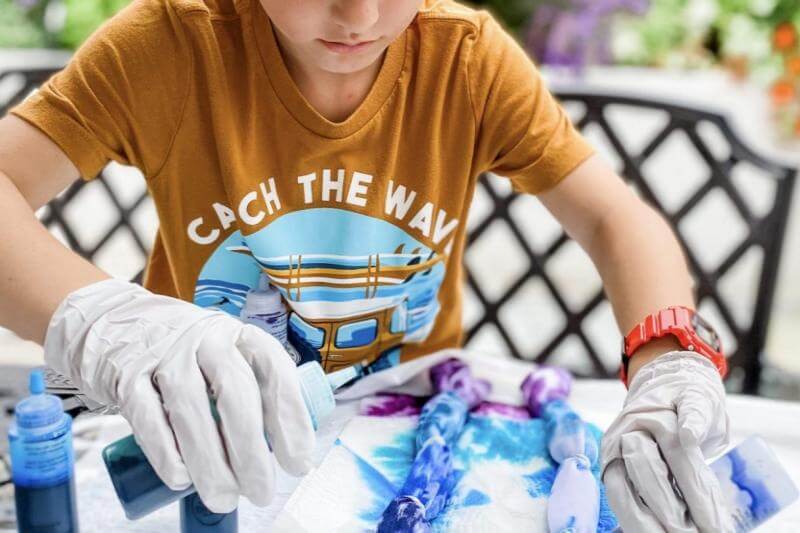 Tie-Dye Socks: Step by Step Guide
There are a few ways to tie dye socks, but this is the simplest method:
1. Prepare the Dyes
First, get your dyes ready to go. Put on the gloves that were included in your kit, or grab a pair of your own. Depending on the kit you chose, the bottles may already have colored powders in them. Follow the directions on how to mix the dyes in the bottle. Make sure that the cap and lid are on tightly before shaking up each bottle.
Most kits come in 5 colors. You don't necessarily need to use all of these colors, but if you're looking for true rainbow tie-dye, then make sure that you mix up all of the colors.
2. Wet Your Socks
Next, you'll want to get your socks wet. The easiest way to do this is to place your socks in a bin of water or sink. Wring them out to remove excess water and put them in your dying bin.
3. Tie Your Socks with Rubber Bands
There are several ways to tie your socks.
Roll the sock into a ball, and wrap the rubber bands around each side of the ball. The rubber bands should create little pie-like slices. Each of these "slices" can hold a separate color.
Place the rubber bands along random areas of the socks.
Crumple up the socks and use rubber bands to hold them together.
There are many other tying and folding techniques out there that you can try, but these are the most straightforward methods.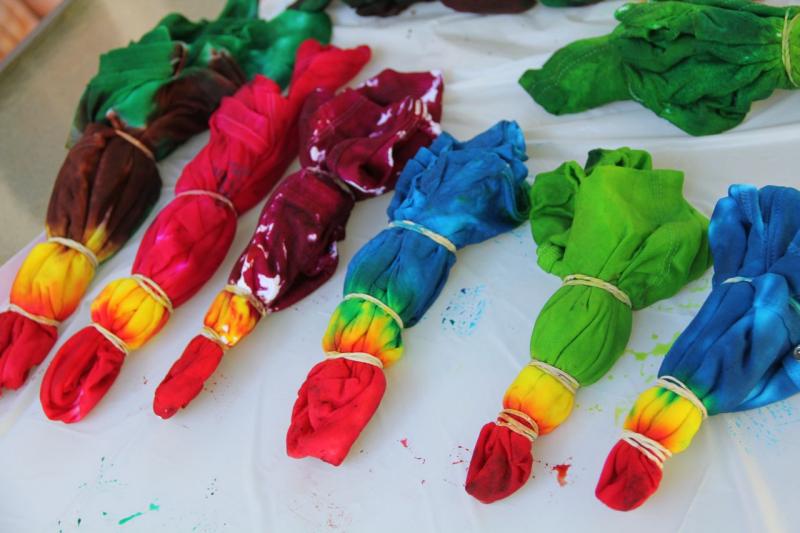 4. Apply the Dye
Begin applying each color in whatever pattern and order you want. Make sure that you insert the tip of the bottle into the folded areas of the socks. Don't go overboard, or you'll wind up with a muddy mess of colors. But make sure that you're covering a good bit of the stocks. Otherwise, you'll wind up with a lot of white areas.
5. Allow the Color to Set
Allow the dye to sit on the socks for as long as possible. Ideally, they should sit for at least 24 hours.
6. Wash the Socks
Once the dye has set, it's time to wash them. Remove the rubber bands and toss your socks into the washing machine. Run the cold rinse cycle to remove any remaining dye left on the socks.
Once the rinse cycle was complete, throw in some detergent, and run an entire wash cycle.
7. Dry Your Socks
Finally, you're going to break all of the rules by drying your socks on the hottest cycle possible. Remove your socks from the dryer and enjoy your new fun socks.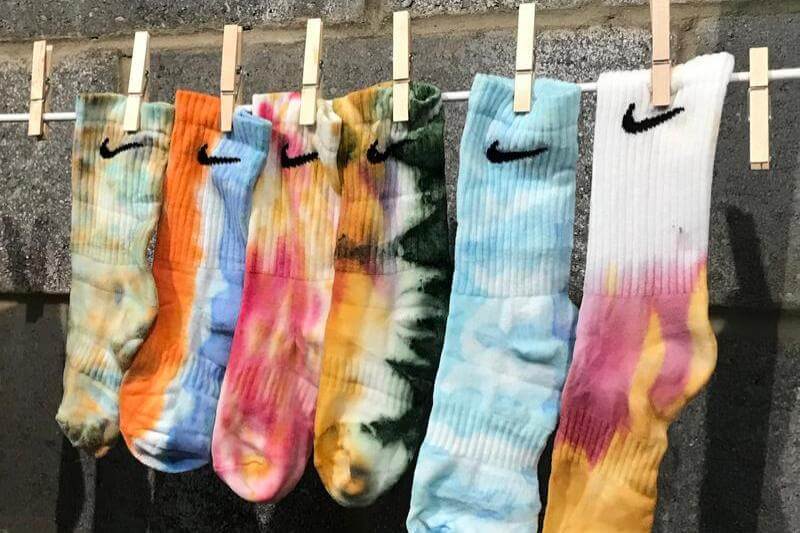 Conclusion
Tie-dying socks is a fun activity that everyone will love. But, for best results, make sure that you're using the best socks to tie dye. At customsocks.io, you can order high-quality socks made from 80% combed cotton that are soft, comfortable and durable. They're the perfect socks for your tie-dying activity.