Want to make a statement on your wedding day? Custom wedding socks are exactly what you need. The groom and groomsmen can wear personalized socks with fun designs for Instagram-worthy photos. Then, after the big day, these socks can be worn time and time again.
Socks are a great gift and fun favor because they are something everyone wears.
Why Does Your Wedding Need Custom Socks?
Custom socks are a fun and quirky way to celebrate your big day. Whether you're giving them as favors or groomsmen gifts, they'll be appreciated by all who receive them.
Custom socks are a thoughtful gift for groomsmen, but they also make for a great photo opportunity. The groom's party can show off their socks in photos and have some laughs along the way.
When choosing your custom wedding socks, it's important to consider the style and fit. While you can certainly go with the no-show look, the two most popular styles for custom wedding socks are:
These socks extend above the ankle and up the calf, giving you more room for your design. These styles also allow the wedding party to lift their pant legs for photos to show off their socks.
Custom socks are just a fun way to celebrate your big day and get the whole wedding party involved.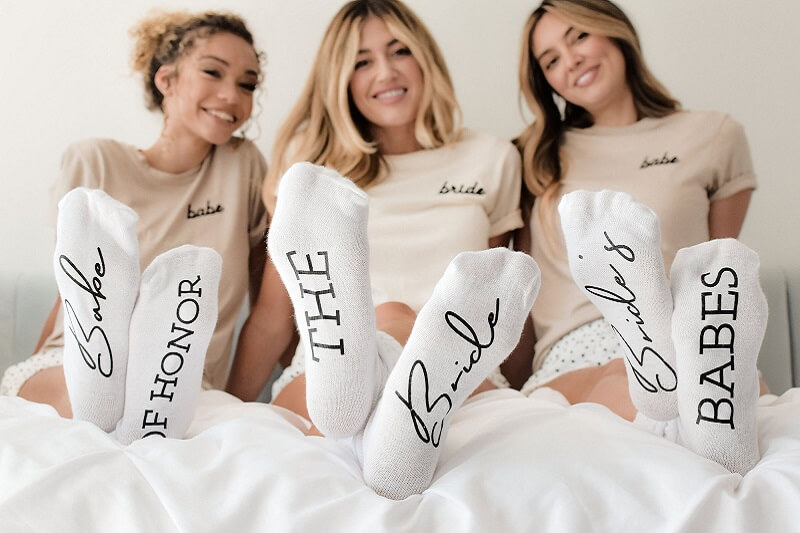 Top Wedding Socks Ideas
Custom socks are always an excellent choice for weddings, but how do you find the right design? We will share some wedding socks ideas to help you get started.
Patriotic Socks
One of the most popular groomsmen sock ideas is patriotic socks. Patriotic socks pair well with suits, and they're an especially great option if you're getting married around a national holiday.
Plus, groomsmen can continue wearing them long after the big day to parties or just for fun.
Superhero Socks
If you're looking for fun sock ideas for groomsmen, superhero socks are a great choice. Each groomsman can have his pair customized with his favorite superhero. Or the groom can give all of his groomsmen socks featuring his favorite superhero.
If you're going with a more elaborate superhero design, consider choosing a crew or athletic crew style. These socks will give you more space to display your design.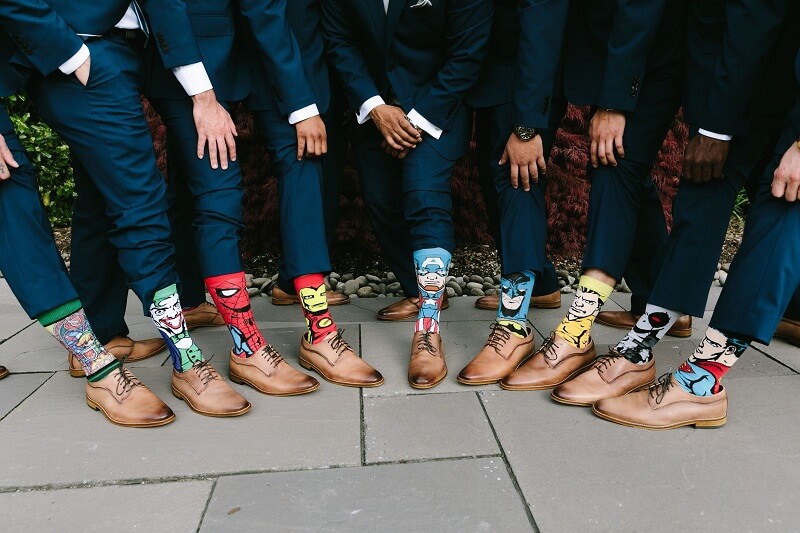 Pizza Socks
Some grooms are looking for more silly or quirky men's wedding socks ideas. Pizza socks are a great fit, and they're sure to make the groomsmen laugh. After all, who doesn't like pizza?
Make your socks look like a giant slice of pizza, or choose a repeating pattern of pizza slices. Either way, your wedding socks are sure to be remembered.
Wedding Theme Socks
For the more serious groom, wedding theme socks are ideal. You can choose a simple design with your wedding date and the groomsman's name. Another option is to have the socks say "groomsman," "ring bearer," "father of the groom" or whatever other roles they may be filling.
Other design options include:
Engagement rings
Mustaches
Top hats
Martini glasses
Bow ties
Catchy phrases, like "Suit Up, Groomsman"
A simple argyle pattern with the groomsman's name will also be an excellent option for custom wedding socks.
Sports Teams Socks
For grooms who are sports fans, sport-themed socks are great for weddings. They allow the groom to show off some of his personality or something that maybe he and his groomsmen share as a pastime.
These custom socks can display a favorite sports team logo, or they can simply feature a design with the sport itself. For example, a golf cart and clubs for the avid golfer.
Sports-themed socks can also be great for photos, especially group photos with the groomsmen.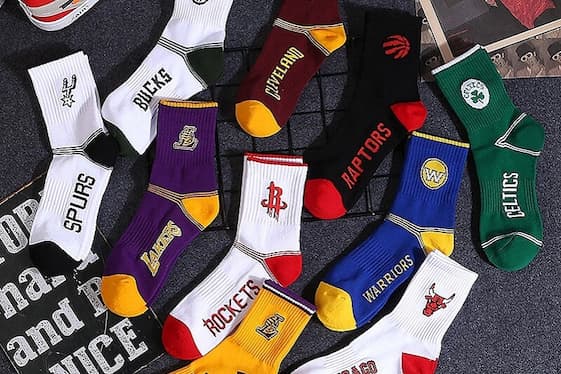 Monogrammed Socks
Sometimes, simple is best. For example, a pair of monogrammed socks can be an excellent option for wedding socks. They're special and personal, but they're also simple and easy for groomsmen to wear both on your big day and after.
For monogrammed designs, solid colors and argyle patterns are ideal. Both allow you to show off the initials without it being too distracting.
Inside Jokes
Do you have an inside joke that all of your groomsmen share? Add this to your sock design. Not only will it make your socks unique, but it will also make them more meaningful to your wedding party.
The design can include a phrase that your group always says, a date or something else that relates to an inside joke you share.
While your guests and other members of the wedding party may not know what the design means, the groomsmen will.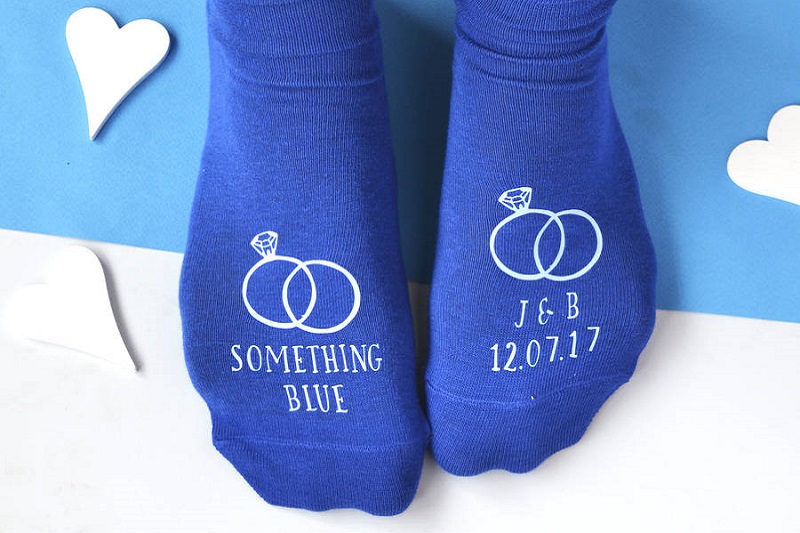 Make Your Wedding Order Now!
Need custom wedding socks for your celebration? Place your order today at our customsocks.io site. Our custom socks will arrive at your doorstep in 14 days or less. Order today and our design team will have a board of designs for review within 24 hours.