Custom Sock Swag For Corporate Companies
We offer:
7-10 Day production
No rush fees
Free Custom Designs
Organic cotton material
We Design & Create the Highest Quality Socks, in Industry leading time for the Best Price.
Our Clients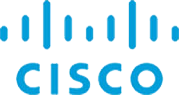 Choose Your Design Custom Socks with Logo
Benefits of Custom-Made Socks
Custom socks stand out. They're filled with swag. They ooze personality. They're 100% your own, unique designs that you can give to employees, vendors or players on sports teams. You can also sell your socks in your shop online or in-person.
100% custom socks that display your brand to the world
Wide selection of sock styles
Access to a professional design team
Comfort that only custom socks can offer
Reinforcement that off-the-rack socks no longer provide
Custom made socks can elevate your company's brand or your team's image in ways that store-bought socks cannot.
And we have amazing bulk pricing options and low minimum order requirements.
How Do You Order Custom Logo Socks? Our Process
1. Order
Using your logo and brand colors, we create a one-of-a-kind custom sock design board with 6-8 amazing designs.
2. Design
In 24 hours, you receive a customized design board that you can review with your team. We make unlimited, free revisions.
3. Delivery
In 10-14 days, your custom logo socks will arrive at your office, and your company swag game is on point!
Customization Options
Our custom socks are truly custom. You can begin customizing your socks by selecting:
Colors
Sizes
Patterns
Logo placement
Cuff size
Sock style
Heel, toe and cuff color
Label and belly band
You can customize virtually every aspect of your socks and let our design team do their "magic" to make the vision for your dream sock a reality. We'll even send you a design board with up to 8 designs within just 24 hours of filling out our form.
Don't like the designs that we send?
We will make unlimited revisions until the sock design is 100% perfect.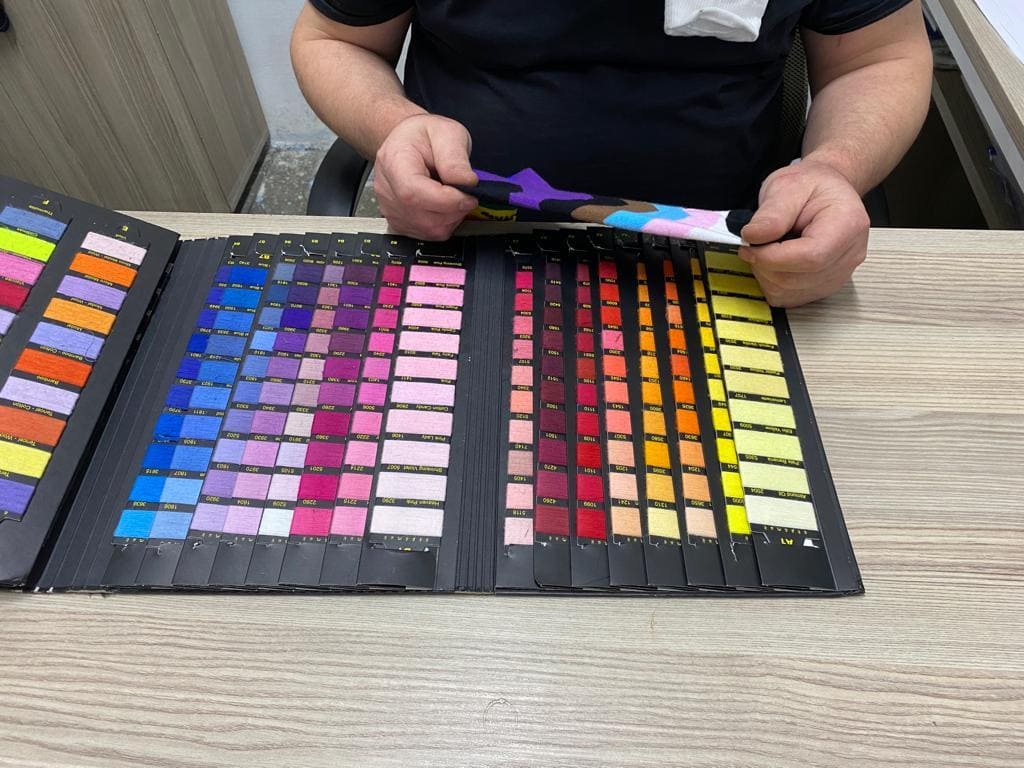 Our Custom Socks wholesale pricing is simple and includes:
6 – 8 custom sock board designs
| Quantity | Unit price | Total |
| --- | --- | --- |
| 100 | $11.17 | $1,117.00 |
| 150 | $10.93 | $1,639.50 |
| 250 | $9.87 | $2,467.50 |
| 375 | $9.43 | $3,536.25 |
| 500 | $8.87 | $4,435.00 |
| 750 | $7.93 | $5,947.50 |
| 1,000 | $6.45 | $6,450.00 |
Lead Time: 10 Days
Minimum quantity: 100 pairs
per design, per size
| Quantity | Unit price | Total |
| --- | --- | --- |
| 100 | $15.20 | $1,520.00 |
| 150 | $14.88 | $2,232.00 |
| 250 | $14.19 | $3,547.50 |
| 375 | $14.03 | $5,261.25 |
| 500 | $12.82 | $6,410.00 |
| 750 | $11.65 | $8,737.50 |
| 1,000 | $9.59 | $9,590.00 |
All Prices are in CAD and include Shipping & Delivery (excludes Sales Tax)
Lead Time:
Knitted Sock = 10-12 Days + 2-3 Days Delivery
Sublimated (Printed) Sock = 13-15 Days + 2-3 Days Delivery
Minimum Quantity: 100 Pairs per Style/Size
Order Your Custom Made Socks with Logo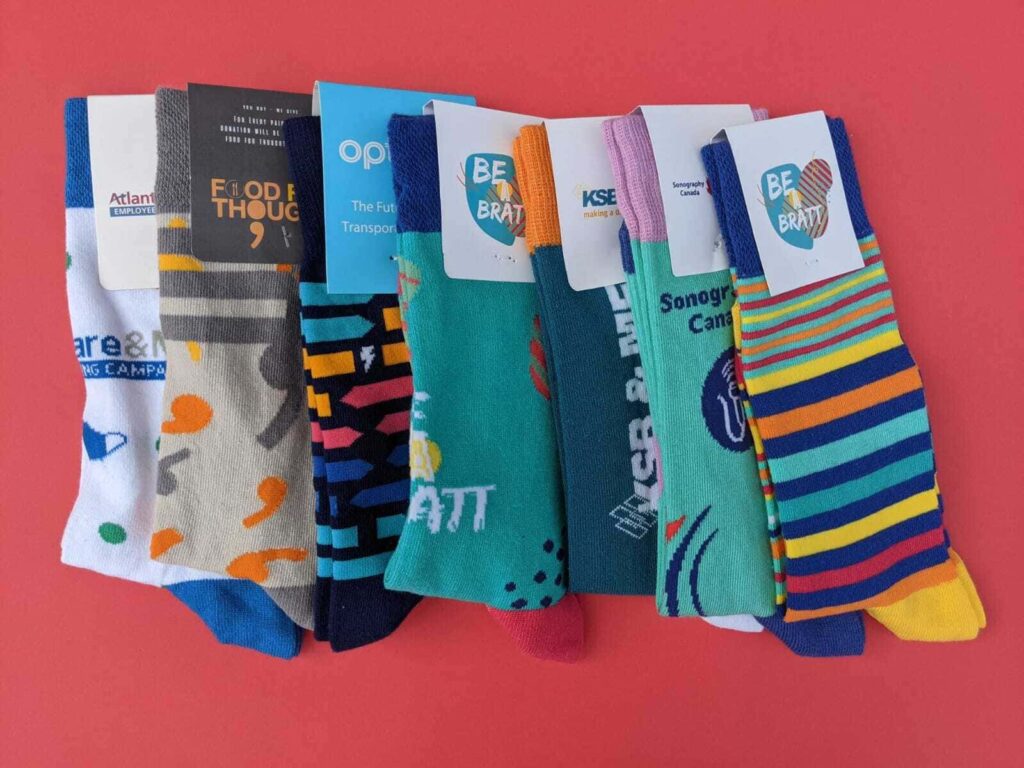 We make ordering your custom socks as easy as possible. Follow these steps to make your order:
Click Get Started or fill out our form.
Add your logo and color choices.
Select the number of socks you want to order.
Wait for us to send you 6 – 8 design choices.
Choose a design and ask for any revisions.
Give us the go-ahead to begin production.
Wait 10 – 14 days for the socks to arrive.
If you have any questions, feel free to reach out to our customer service team and we'll answer them ASAP.
How Do We Make Our Custom Made Socks with Logo?
As a trusted custom socks wholesale supplier in Canada and USA, we have a proven manufacturing process to ensure we always deliver a quality product.
All our socks are made from 80% combed cotton, 17% polyamide, 3% elastane for both durability and comfort. Each sock is reinforced at both the heel and toe for increased longevity, and we use a sophisticated knitting process that ensures the colours last for years.
We offer socks in a number of different styles, including: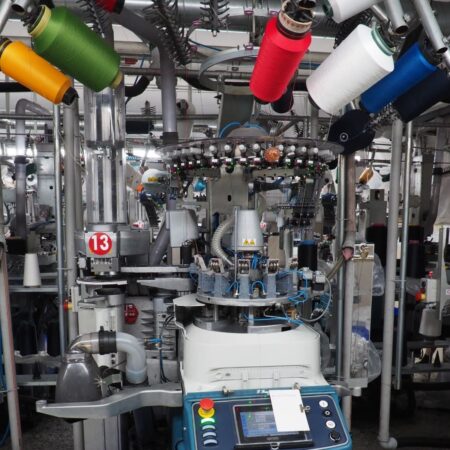 Need Custom Socks Manufacturer?
Make An Order for Your Company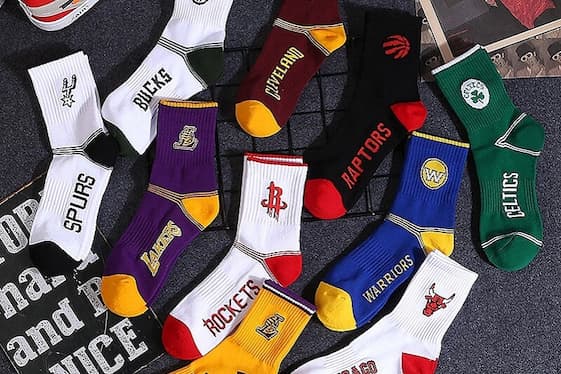 Your company is seconds away from making a custom sock order. But you should have a few things ready to make the process easier:
Select color options for your socks
Review the many sock options we offer
Choose logos or graphics you want to add to your socks
Select the size(s) that you plan to order
Review all of your options internally
Decide if you want to sell socks or give them away
Dedicate a person to review the sock designs we send you
You'll work closely with our design team, who will help you through every step of the design process and make sure that the design you choose meets your vision 100%. What are you waiting for?
Place your order today and we'll begin working on your custom sock designs and send them for approval within just 24 hours.
1. Rib Stitching
You're socks are staying in one place
2. Super High Quality
Combed Cotton
3. Reinforced Heel
and Toe
Built to withstand the long day
4. 200 Needle
Construction
80% Combed Cotton
17% Polyamide 3% Elastane
WASH INSIDE OUT
Produced from the best combed cotton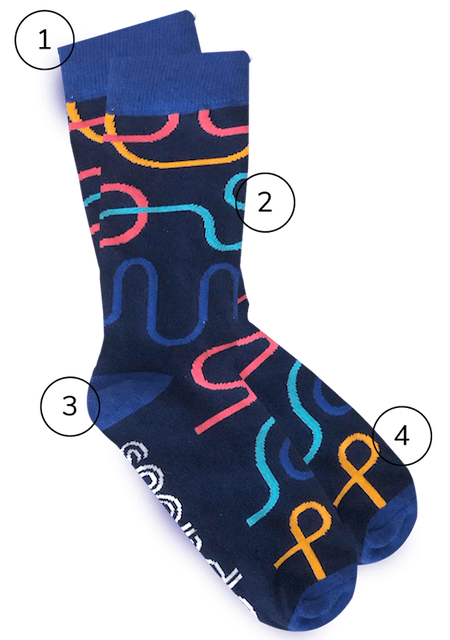 How to Care for Your Custom Logo Socks?
Care for your custom socks like a professional:
1
Wash in mild detergent and on cool
2
Turn your socks inside out to protect colors
3
Dry on the coolest setting or hand dry
4
Avoid high heat or harsh chemicals (bleach)
Finally, fold your custom printed socks instead of rolling them to keep all printing in pristine condition.
Case Studies
Get Inspired by our amazing client creations!
Frequently Asked Questions
What Is the Production Time of Our Wholesale Custom Socks?
As a custom socks wholesale manufacturer, we strive to deliver your sock order in 10 – 14 days on average.
We use a streamlined process that starts with our design team coming up with the original drafts for your custom socks with logo within 24 hours.
What Are the Minimums for My Custom Socks Order?
You can place an order for custom printed socks with a minimum requirement of just 100 pairs of socks. Since we sell our socks in bulk, the more you buy, the more you'll save.
Want to order more than 1,500 pairs of socks?
Contact our custom sock company first to discuss turnaround time and special-order discounts.