Elevate your brand with
next level custom sock swag.
7-10 Day production
No rush fees
Free Custom Designs
Organic cotton
Custom Socks with Logo for Everyone in Canada & USA
THESE COMPANIES ARE ON TOP OF THEIR SWAG GAME: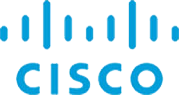 We Make Custom-Made Socks Easy

Using your logo and brand colors, we create a one-of-a-kind custom sock design board with 6-8 amazing designs.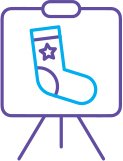 In 24 hours, you receive a customized design board which you can review with your team. We make unlimited, free revisions.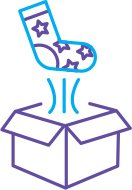 In 10-12 days, your custom logo socks arrive at your office, and your company swag game is on point!
Get Amazing Designs with Our World Class Sock Design Team
Are you looking for the perfect gift for your employees? Need some swag to give away at your next trade show or corporate trade show? Socks with unique design are ideal for virtually every event. Plus, they're fun and provide your company with an excellent marketing opportunity.
Order your custom socks today and discover why so many businesses use them as their go-to promo item.
How We Create Our Custom Socks in Canada and USA?
We believe that socks should be comfortable and durable. That's why we use the finest materials to construct our socks.
Here's how we make our socks:

We use rib stitching to ensure that your socks stay in place.

Our socks have reinforced heels and toes to provide all-day comfort.

We use 200 needle construction for added durability.
Our socks are built to last, so your branded custom socks will continue giving you a return on investment for years to come.
Why Choose Us?
We stand apart from other sock suppliers with our meticulous attention to detail. We work tirelessly to get you your order in the fastest time, using world famousTurkish Cotton at the most competitive price.
Choose Your Design Socks with Logo
Get Inspired by our
amazing client creations!
How Do We Make Our Custom Made Socks with Logo?
As a trusted custom socks wholesale supplier in Canada and USA, we have a proven manufacturing process to ensure we always deliver a quality product.
All our socks are made from 80% combed cotton, 17% polyamide, 3% elastane for both durability and comfort. Each sock is reinforced at both the heel and toe for increased longevity, and we use a sophisticated knitting process that ensures the colours last for years.
We offer socks in a number of different styles, including: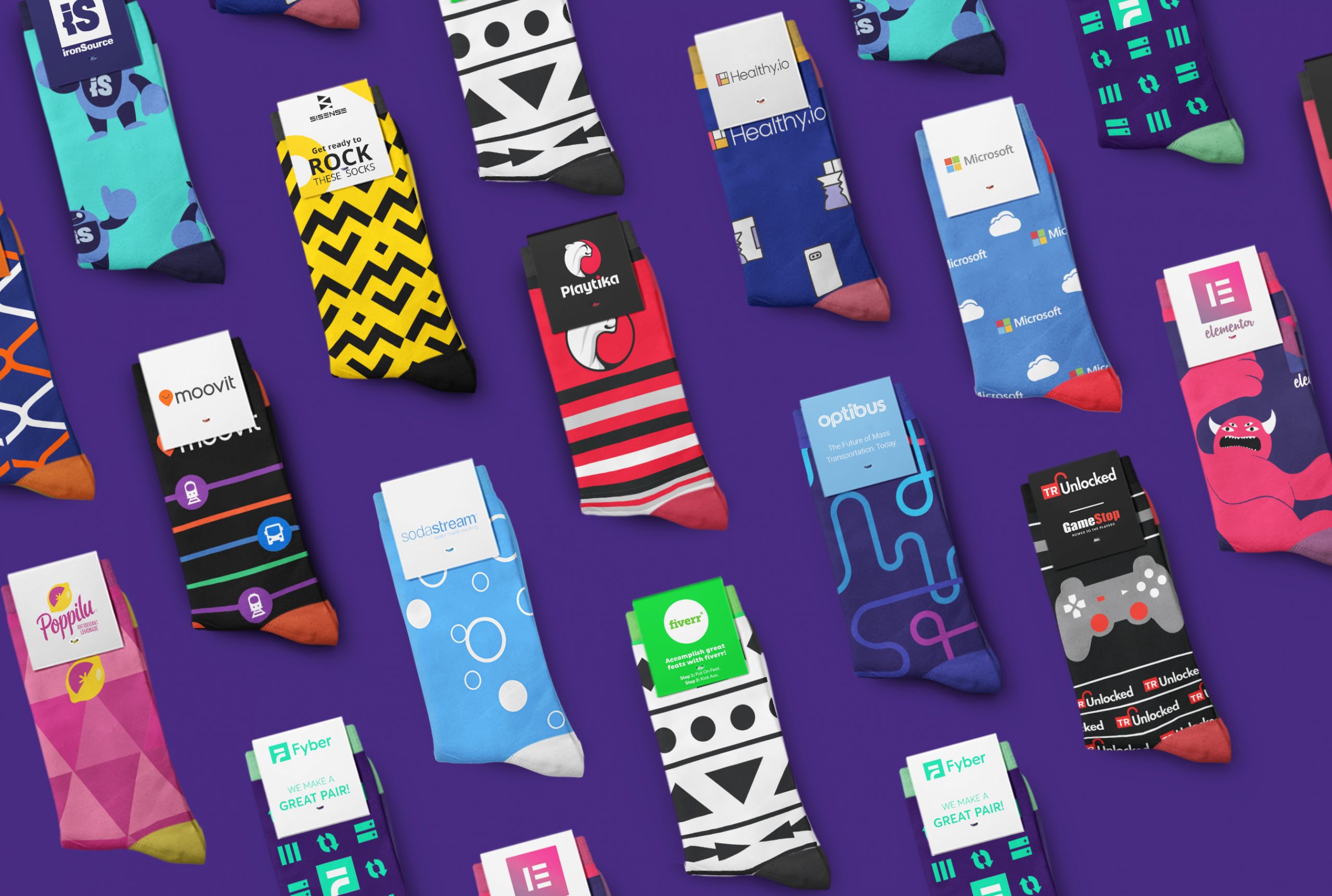 Need Custom Made Socks Wholesale?
Make An Order for Your Company!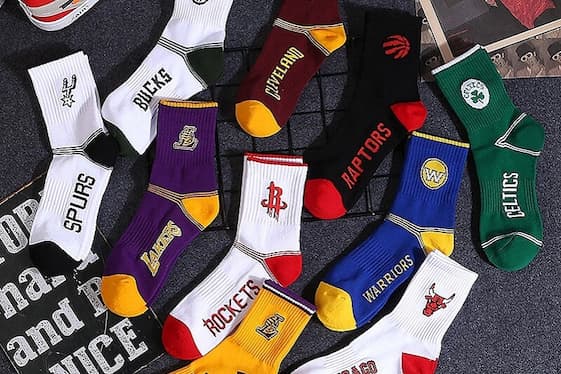 Custom socks are the perfect gift for employees and a great addition to swag bags at events and trade shows. Not only are they fun and useful, but branded socks are also great for branding and marketing your business.
If you're looking for wholesale custom socks in bulk, place your order today! We'll create a unique design that's ready for your review in as little as 24 hours. In addition, we offer a 10-14-day turnaround in the USA for our custom socks, ensuring that you're ready for your next big event.
We ship our socks to Toronto, Montreal, Edmonton and all other regions in Canada!
1. Rib Stitching
You're socks are staying in one place
2. Super High Quality
Combed Cotton
3. Reinforced Heel
and Toe
Built to withstand the long day
4. 200 Needle
Construction
80% Combed Cotton
17% Polyamide 3% Elastane
WASH INSIDE OUT
Produced from the best combed cotton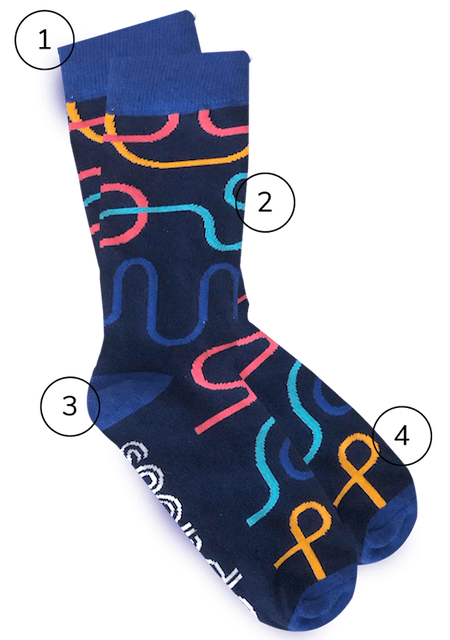 Our ALL-IN pricing is simple
and includes:

Beautifully designed
custom sock boards


| Quantity | Unit price | Total |
| --- | --- | --- |
| 100 | $11.17 | $1,117.00 |
| 150 | $10.93 | $1,639.50 |
| 250 | $9.87 | $2,467.50 |
| 375 | $9.43 | $3,536.25 |
| 500 | $8.87 | $4,435.00 |
| 750 | $7.93 | $5,947.50 |
| 1,000 | $6.45 | $6,450.00 |
Lead Time: 10 Days
Minimum quantity: 100 pairs
per design, per size
| Quantity | Unit price | Total |
| --- | --- | --- |
| 100 | $15.20 | $1,520.00 |
| 150 | $14.88 | $2,232.00 |
| 250 | $14.19 | $3,547.50 |
| 375 | $14.03 | $5,261.25 |
| 500 | $12.82 | $6,410.00 |
| 750 | $11.65 | $8,737.50 |
| 1,000 | $9.59 | $9,590.00 |
All Prices are in CAD and include Shipping & Delivery (excludes Sales Tax)
Lead Time:
Knitted Sock = 10-12 Days + 2-3 Days Delivery
Sublimated (Printed) Sock = 13-15 Days + 2-3 Days Delivery
Minimum Quantity: 100 Pairs per Style/Size
How Do You Order Custom Socks?
Ordering your custom socks is easy. Here's how it works:
2
Let us know how many socks you need. We sell Custom Logo Socks Wholesale with minimum orders of 100.
3
We send you mock-ups of 6 - 8 potential designs.
4
You choose and approve the design you want.
5
We put the socks into production.
6
You receive your socks in 10 - 14 days after production begins.
Frequently Asked Questions
What is the production time?
We pride ourselves on offering a quick turnaround time for our custom socks. When you order our custom socks in Canada, you can expect to receive your order in as little as 10 days.
What are the minimums for custom socks wholesale orders?
Because we are a wholesale custom sock manufacturer, we require all customers to purchase a certain number of socks. If you're purchasing custom socks in bulk, our minimum quantity requirement is 100.
What can I change in my brand new custom socks?
Our stocks truly are custom. You're free to change just about anything. Add a logo. Change the color, or use a special design.
Our team will use your brand's color and logo to create a unique design board with up to 8 designs to choose from. Review your designs, and change whatever you want. We offer unlimited free revisions to ensure that you absolutely love your socks.
How to care for your custom socks?
Proper care will keep your socks looking their best and help them last longer.
Rather than just tossing your socks in the wash, we recommend:
Washing your socks inside out and with cold water
Avoiding using harsh chemicals (like bleach) when washing
Hang drying
Folding your socks instead of rolling them
We also advise against ironing your socks, as the heat can damage the design and material.
Will your custom socks fit me?
When ordering custom socks in bulk, it's important to make sure that you get the sizing right. We are happy to create socks in any adult size. Sizing works in a range of four sizes (e.g., 6-10 or 9-12), so they are one size fits most. If you have a unique sizing need, reach out to us and we will do our best to accommodate your request.