Elite Custom Socks
Are you looking for elite custom socks?

We create branded custom socks that are comfortable, beautiful and durable. Whether you're planning an event or looking for the perfect employee gift, we have a sock solution for you.
How We Create Our Custom Elite Socks Wholesale
Custom socks are an extension of your brand. The last thing you want is to invest in custom socks and have them fall apart after just a few months. That's why we use premium materials when creating our socks to ensure that, like your brand, your socks withstand the test of time.
Our socks feature:

Ribbed stitching to keep the sock in place.

A reinforced heel and toe for all-day comfort.

200-needle construction for increased durability.
Our Elite Custom Socks Benefits
With so many options for employee gifts and swag, why choose socks? Are they really worth it?
Our elite custom socks offer many benefits:
One of a Kind ✔️
Your custom socks are uniquely yours. We create designs using your logo and brand colors.
Comfortable ✔️
Our premium cotton blend ensures that our socks are comfortable and breathable. Wear them all day without discomfort.
Durable ✔️
Our socks are made to last, allowing you to market your brand over the long-term. We use 200-needle construction to ensure that your socks will give years of use.
Useful ✔️
Socks are something we all wear. Custom branded elite socks allow you to give swag that people will use in their everyday lives.
Branding ✔️
Branded elite socks are a great way to market your company and build brand awareness. They will continue to provide a return on your investment for years to come.
How To Choose The Best Custom Elite Socks For Myself
If you've never purchased elite wholesale socks for yourself, it can be confusing if you're used to walking into a store and choosing any sock for sale. Instead, when you choose custom socks, it's important to consider the following when making your purchase:

Size
Custom socks are all about one thing: the right fit. You should be able to choose a size, based on your foot, to ensure a proper fit.

Comfort
Can you try the socks on or touch the material before purchase? Custom socks should offer a high level of comfort that are much more comfortable than the socks you're wearing right now.

Material Quality
What material is the sock made from? It's important to consider all materials because they offer their own perks, such as being able to protect against moisture. Moisture-wicking socks reduce moisture inside of your socks that is responsible for athlete's foot and fungus growth.
Need Custom Elite Socks In Bulk?
Make An Order For Your Company!
Our elite socks are the perfect swag for trade shows or events. They also make a great employee gift. In addition, we offer a wide range of styles and custom designs that are aligned with your brand, making them a worthwhile investment.
Here's how it works:
We use your logo and brand colors to create a unique, personalized design for your socks.
We'll send over your design for review within 48 hours. We offer unlimited revisions for free.
Your custom elite socks will arrive at your office within 14 days in the USA.
If you need elite socks in bulk, place your order today!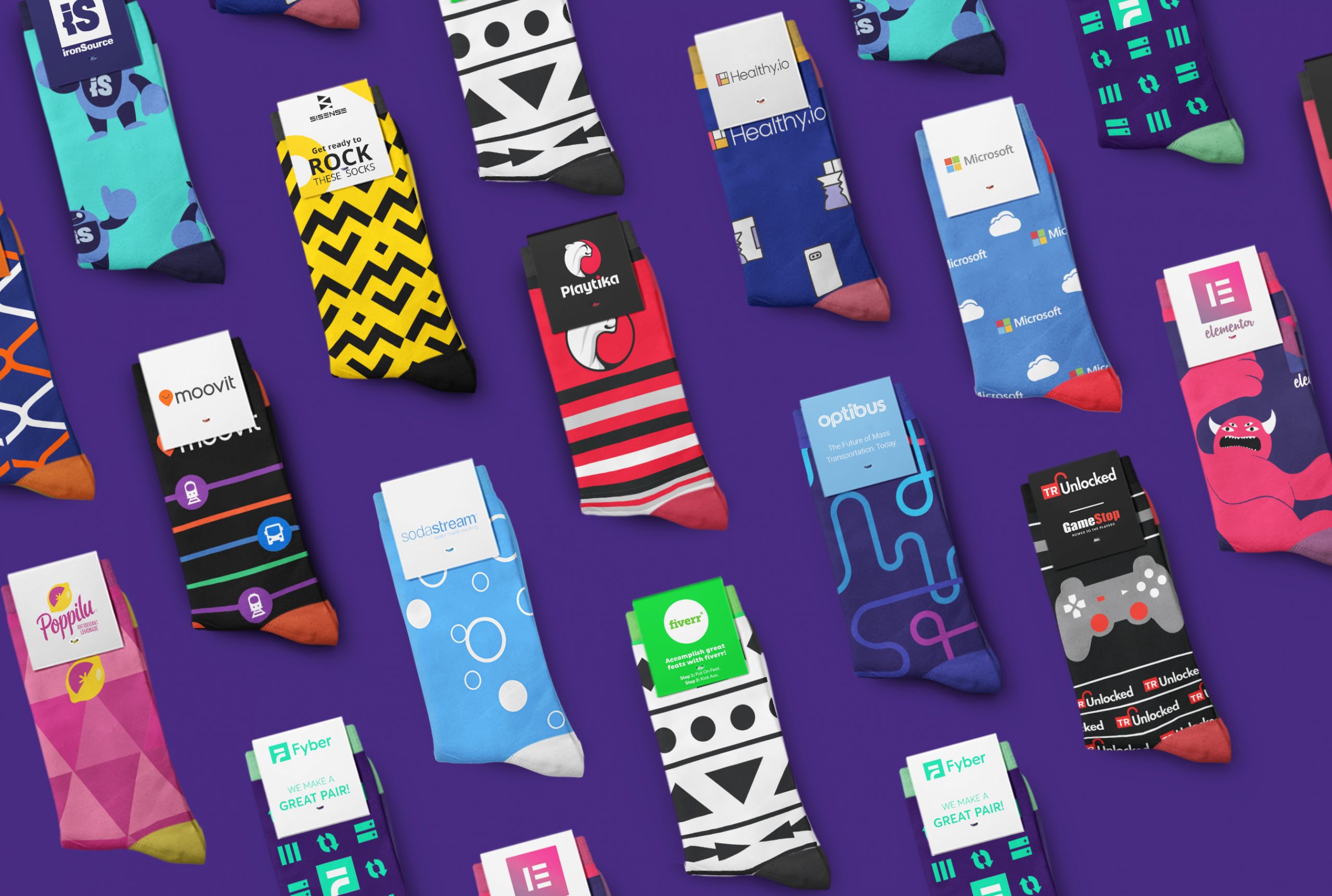 1. Rib Stitching
You're socks are staying in one place
2. Super High Quality
Combed Cotton
3. Reinforced Heel
and Toe
Built to withstand the long day
4. 200 Needle
Construction
80% Combed Cotton
17% Polyamide 3% Elastane
WASH INSIDE OUT
Produced from the best combed cotton