Not sure what socks to wear with sneakers? It can be tricky to find the perfect pair of socks to complement your outfit and your sneakers. But we're going to share the best practices for choosing the right socks to wear with your trainers.
What Type of Socks to Choose for Sneakers?
If you want to know how to style socks with sneakers, the first thing to consider is the sock style. There are two main styles of socks that you can wear with sneakers: ankle and high socks.
High Socks with Sneakers
Looking for tips on how to wear sock trainers? Choose high socks. High socks look great with trainers, especially if your socks have a fun design or color.
Custom Knee-high socks and crew socks are excellent choices, but make sure that you choose colors, brands and styles that go together. This is a rule that applies to both men and women. For example, if you're wearing Nike sneakers, don't pair them with Adidas socks.
Just make sure that if you're wearing high socks with your sneakers, the sock's colors and patterns don't clash with your sneakers. If your sneakers already have a pattern or design, don't pair them with argyle crew socks.
Ankle Socks with Sneakers
Not sure what socks to wear with running shoes? Go with custom ankle socks. If you're wearing running shoes to the gym or when you're hitting the trail, go with socks that will keep you cool and comfortable. Ankle socks are the best option for this purpose.
The great thing about wearing ankle socks with sneakers is that they're hidden away. A tiny portion of the sock may peek out, but that's about it.
Still, it's a good idea to choose a sock color that matches your sneakers. For example, if your sneakers are red, wear red, white or black ankle socks. Keep it simple and avoid socks with busy patterns.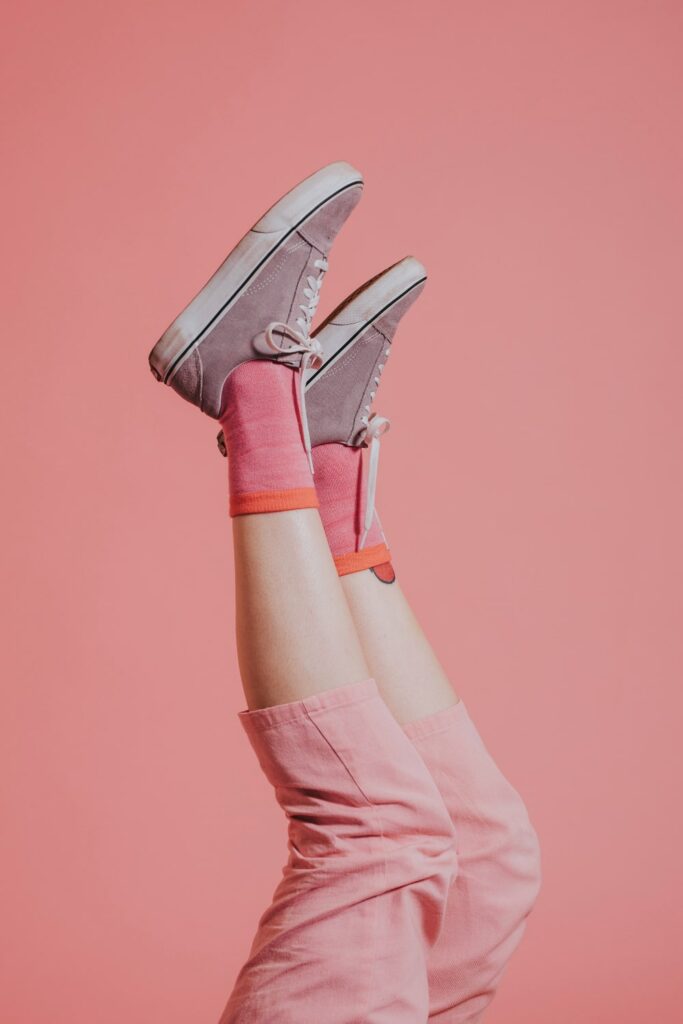 Socks To Match Sneakers
Choosing the right type of sock is the first step. But what about colors and designs? The right style will depend on the color of the sneakers you're wearing. Let's look at what color socks to wear with white and black sneakers.
What Socks to Wear with White Sneakers?
The great thing about white sneakers is that you can wear just about any sock with them. They pair well with any color and sock style. And yes, it's okay to wear white sneakers with white socks.
Best Socks for Black Sneakers
If you're wearing black sneakers, you can also get away with wearing a variety of sock styles and colors. However, you may want to avoid wearing white socks. Dark colors tend to look best, including black, navy blue and gray. Red is another great color to pair with black. If you want to wear white socks with black sneakers, consider sticking with crew socks that have stripes or some other pattern.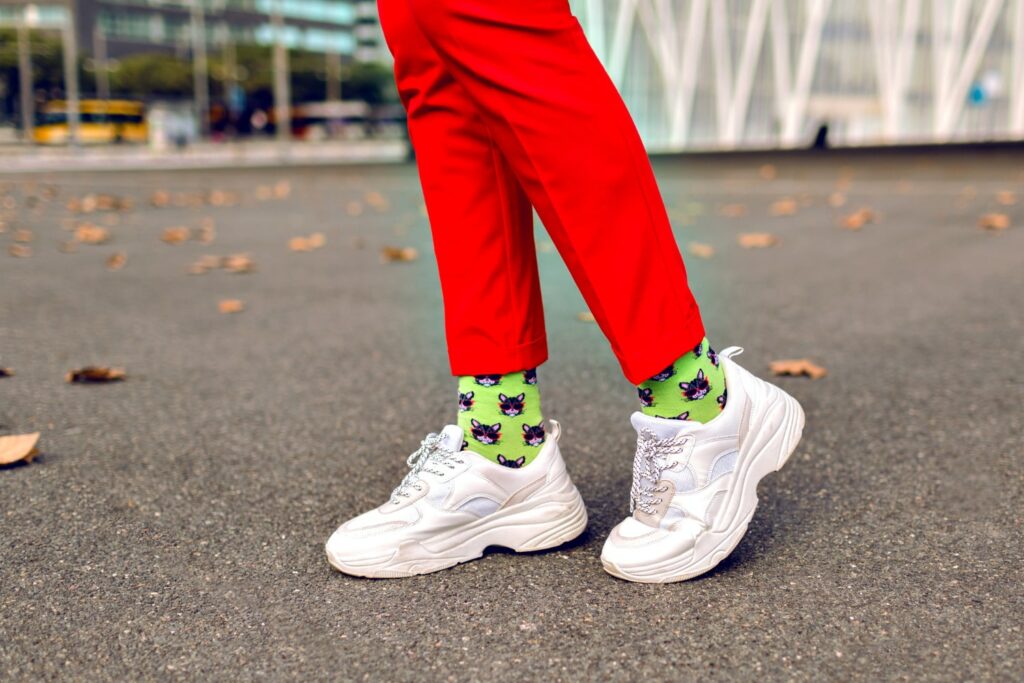 Rules That Can Be Broken
When it comes to fashion, it's important to remember that the rules were made to be broken. Fashion is a form of self-expression, so if you want to mix and match colors and patterns – go for it. Any of the rules above can be broken.