Hiking is intense. If you wear thin hiking socks, you'll quickly find yourself stopping on trails to deal with your aching, blistered feet. However, the best hiking socks offer comfort, longevity on trails and will protect against foot pain.
And if you're hiking in warm weather or during summer, you'll need to know how to choose the proper socks for your needs.
In this article, we're going to help you choose summer hiking socks – or socks for any season. We'll cover the best materials, cushioning options, fit, and design considerations to ensure that your hike is a success.
Why Choosing Hiking Socks is Important
Every mile that you hike, you'll take around 2,000 steps or more. Additionally, you may take more steps because it's often difficult to take a full stride on rough terrain. Rocks, roots and major hills are difficult for hikers to traverse.
Your shoes are crucial to keeping your feet pain-free and comfortable.
The best lightweight hiking socks will add to the padding and comfort of your feet. If you have thin socks, it will lead to potential:
Blisters
Pressure points
Discomfort
Aches and pains
You can even purchase water proof hiking socks, which ensure that if you're hiking in the rain or have to run across a creek, your feet will stay dry. Dry feet are crucial to keeping your feet healthy.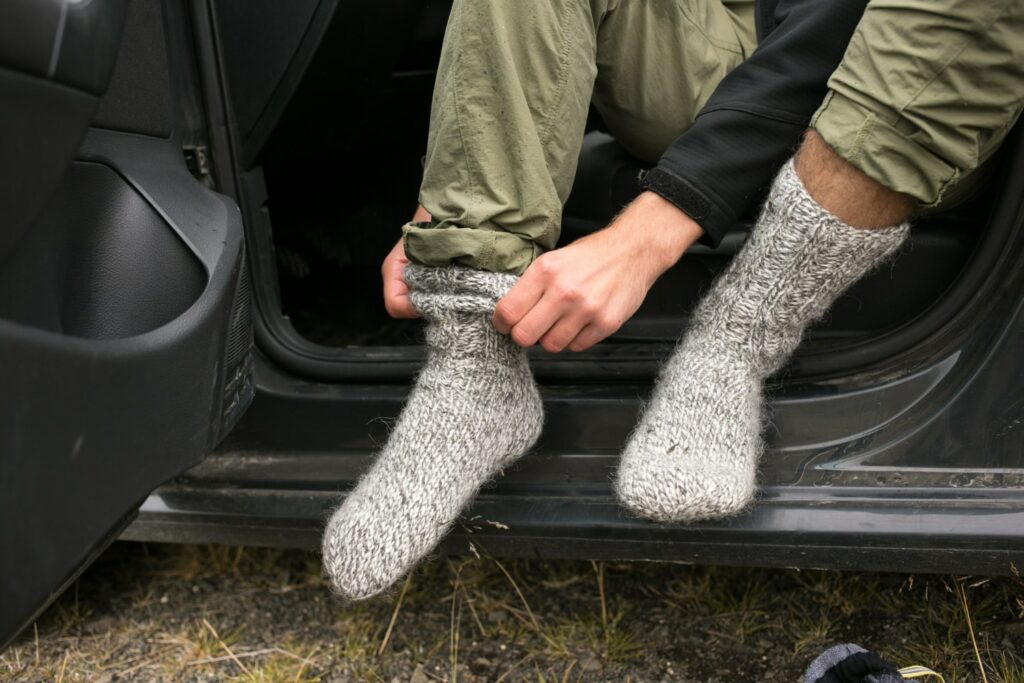 Best Hiking Sock Material
If you're searching for the best anti blister socks for hiking, you need to first consider the sock's material. Socks come in multiple material options, all of which impact cost and comfort.
A few of the most common material options you'll have when buying socks are:
Merino Wool
Wool is a material that most professional hikers choose because it's known for its unique properties, such as:
Helping your feet regulate temperature
Adds exceptional padding to the sock
Fights back against microbes that make socks smell
Many sock manufacturers opt for Merino wool as the primary sock material and then add in synthetics to improve on the sock's characteristics. If you're an avid hiker that demands the absolute best socks, consider choosing Merino wool because it can withstand the most intense hikes.
Synthetics
Synthetics are some of the most common sock materials, and it's not uncommon for hiking socks to have a mix of synthetics that make them fit and function correctly. A few of the most common synthetics you'll find in hiking socks are:
Polyester is known for being one of the best materials for anyone who needs enhanced moisture-wicking properties and has sweaty feet. The material dries rapidly, and you'll find that polyester is fast-drying, comfortable, warm and very durable.
Nylon is another common synthetic that is used to improve drying time and adds overall durability to your socks.
While other synthetics may be used in hiking socks, these are the most common.
Silk
Silk is a material that is known for being luxurious, but the material is also a natural insulator that keeps your feet warm. If you plan on choosing silk socks, consider the following:
Silk is lightweight
Silk wicks moisture well
Silk's durability isn't as high as other options
Silk is one of the materials that a lot of professional hikers choose for liners. If you want a very lightweight liner that can help you combat sweaty feet, silk is a good option.
Cotton
Cotton and cotton blends offer an excellent hiking sock at an affordable price. Blends are most common because if 100% cotton gets wet, it will be a very bad experience. However, when appropriately blended, cotton is known for its:
Ability to absorb moisture
Comfortable fit
Blends help negate the one bad thing about cotton: its slow-drying properties. Cotton is known for drying slowly, so if it gets wet when you're out on a hike, you'll have wet, soggy feet that never feel comfortable. Synthetics use the best materials for drying and comfort to ensure that if you're on an intense hike, you can be confident that your feet will be dry and comfortable.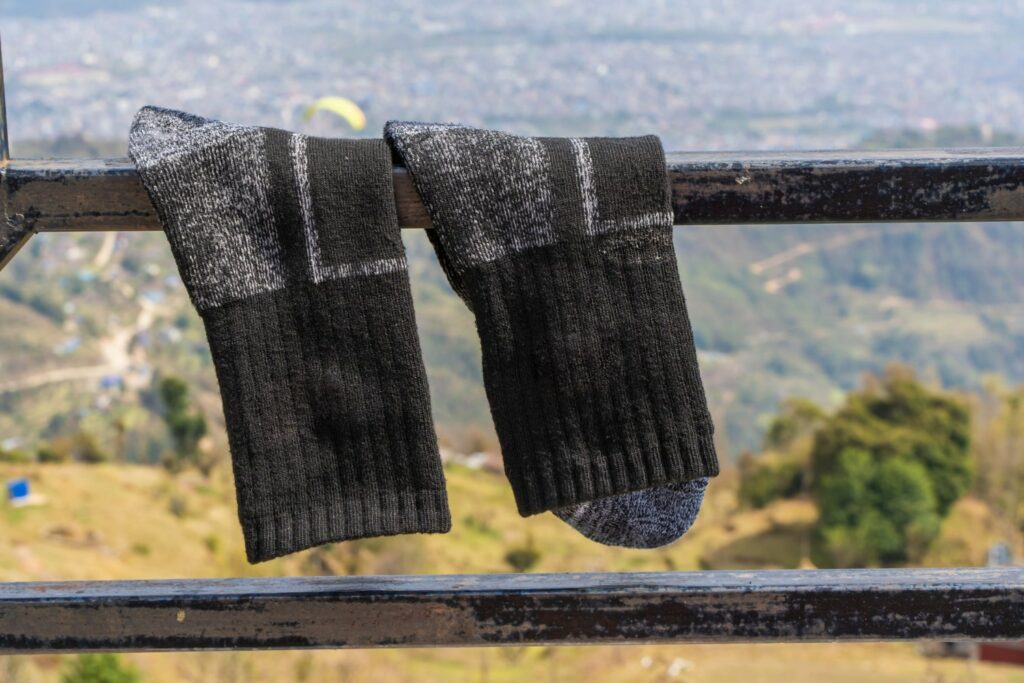 Hiking Sock Cushioning
Now that you know the best material for summer hiking socks, it's time to consider the cushioning available. Cheaper brands may offer "cool hiking socks," but cool doesn't mean that they're good.
The best hiking socks are fast drying, comfortable and have proper cushioning. Your cushioning needs may be different than someone else's cushioning, so make your decision carefully. Cushioning may include:
No cushioning
If you want lightweight socks, no cushioning is the best option. Hikers opt for these socks during the warmest months of the year when thick socks lead to sweaty feet and potential athlete's foot.
The no cushioning socks are ideal when you:
Require breathable material
Hike for very short distances
Wear socks underneath your thicker socks
No cushioning socks are also known as liner socks because hikers wear them underneath their other socks. If you fall into this category, where you prefer liner socks because they're wicking hiking socks, then a no cushion option is a good choice for you.
However, there are many quick-drying hiking socks that come with more cushioning and still wick away moisture.
Light cushioning
If you plan on hiking in warmer conditions, you want your hiking socks lightweight. A lightweight sock has minimal cushioning and offers greater wicking power than some thicker options.
Light cushioning socks will incorporate padding in key areas, such as the following:
You'll want to choose the light cushioning option when hiking in warm or hot weather or when you don't mind sacrificing warmth for a more lightweight sock.
Medium cushioning
Many hikers recommend that if you're a new hiker who really doesn't know how to choose the best socks, opt for a medium cushioning option. The medium cushioning provides greater protection for your feet and allows you to remain comfortable during longer hikes.
However, the medium cushioning is also great for cold months when you want to add a bit of additional warmth to your feet.
Heavy cushioning
Finally, heavy cushioning socks are what serious hikers and mountaineers wear. These socks are known for being the:
Thickest socks
Warmest
Best cushioned
However, due to their thick cushioning, these are not the best socks for sweaty feet hiking. Most professionals opt for heavy cushioning in the winter and during really rough hikes because they help your feet stay warm and reduce the risk of foot pain.
You'll want to choose heavy cushioning socks under the following circumstances:
Long hikes
Winter hikes
Hiking rough terrain
If you plan on hiking one of the largest mountains in the world, where the terrain is rough and weather can rapidly change, heavy cushioning is your best option for a sock.
Hiking Sock Fit
Fit plays a major role in your overall foot comfort and health. If you're not wearing the right fit for your feet, it can lead to socks sliding, wrinkles, blisters and even slippage. The main issue with improperly fitting socks is that small wrinkles in your socks are enough to cause blisters and prematurely end a hike.
How do you choose the right sock for your foot?
Size. You should measure your foot's size to ensure that the socks are designed to fit your foot. Footwear specialists can assist you in ensuring that you choose a sock that fits your foot properly.
Charts. Manufacturers may have their own sock dimensions that correspond to your foot size. Reach out to manufacturers to ask for a size chart or to learn the foot size range that the socks cover. Often, socks are designed to fit a wide range of foot sizes.
Once you have your socks, it's time to try them on and see how they fit. You want socks that are snug enough that they won't slide down your foot and cause discomfort. Overly tight socks are also not ideal because they can cause discomfort.
The heel of the sock should align with your actual heel properly, too.
Whether you choose breathable socks for hiking or lightweight synthetic socks for hiking, one thing remains consistent: your socks must be comfortable and fit well. If your socks don't fit correctly, choose another sock that does.
Design
Finally, once you've done everything else and considered all of the sock options that we've discussed, you can move on to the design of the sock. Aesthetics are all about looks, but you'll find comfortable, nice-looking socks that meet your comfort and fit needs.
You can also have your socks custom-made to choose a design that you truly love.
Once you find the best hiking socks for your needs, you'll learn just how important the right socks are for your comfort. The right socks make hiking fun, exciting and pain-free. And you may need multiple pairs of socks for different occasions.
For example, you may need thick cushioning for winter hikes and light cushioning for fast, summer hikes.
We hope that the guide above can help you find custom athletic socks that offer you a comfortable fit, minimize sweating and blisters, and enhance every hike that you go on.